How to Buy a Forklift Without Leaving Your House
May 04, 2020 - Last modified: September 7, 2022 @ 5:28 pm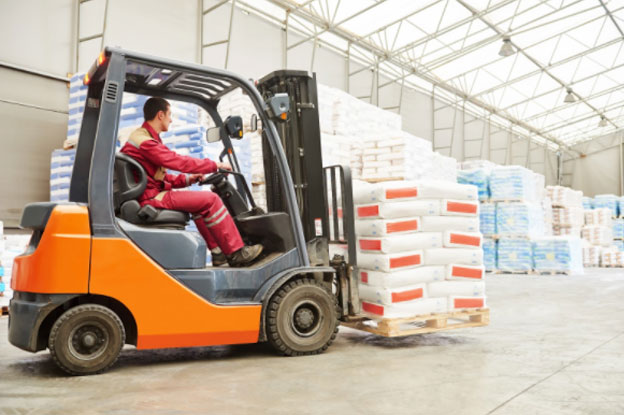 So, you need to buy a forklift for your operation. You want to increase efficiency at your workplace, but you also want to find the best deal. There are seemingly endless options, but you don't have time to waste browsing hundreds of websites and making dozens of phone calls.
Sound familiar? Don't sweat it. Forklift Inventory can help you compare forklifts for sale online. Learn how to buy a forklift online without ever leaving your house.
That's right, you can browse forklifts for sale online from the comfort of your couch.
Buy a forklift with confidence. We partner with top dealers nationwide to collect a huge inventory of reliable new and used forklifts for sale. Skip the scams and compare only the best options in your area.
Learn more about how to buy a forklift online from a trustworthy lift truck dealer without leaving your home or workplace.
Finding The Best Forklift
Here's the bottom line:
The best forklift for someone else might not be the best forklift for you.
Before you buy a forklift for your operation, it's important to understand your priorities. Different forklifts offer different capabilities that may or may not align with your needs.
First, consider where you'll be using your equipment. If you need to buy a forklift for an indoor operation, you might consider sit-down forklifts with cushion tires. You might also consider buying a stand-up forklift like a reach truck or order picker. Stand-up models are narrower and easier to maneuver than standard sit-down models.
On the other hand, if you're looking to buy a forklift for an outdoor operation, you'll want a machine with pneumatic tires. Consider a telehandler or rough terrain forklift. Pneumatic forklifts offer more traction and control on uneven surfaces.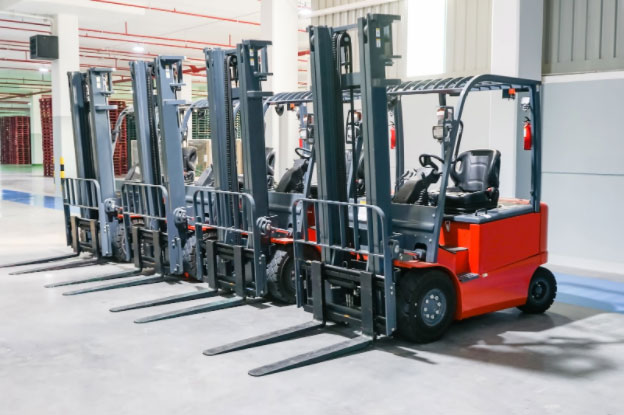 Secondly, before you buy a forklift online, consider your budget. Forklift prices vary depending on the forklift type and brand you choose.
If a new forklift is outside of your budget, consider browsing used forklifts for sale. If you decide to buy a used forklift, be sure to do your research to make sure the equipment is provided by a trustworthy lift truck dealer.
Don't have time to do the research? Don't worry. We'll do it for you.
Forklift Inventory makes it easy to buy used equipment. You'll only receive quotes on used forklifts for sale that are in good, reliable condition. Every forklift we carry is a forklift you can trust.
We work with pre-screened, certified lift truck dealers who carry top equipment from the best forklift manufacturers. When you browse used forklifts for sale with Forklift Inventory, you'll avoid the scams that are often found on Craigslist and other online marketplaces.
Making the Right Choice
Forklift Inventory is there for every step of the buying process. That includes decision-making.
With so many options available, it can be tough to know which is the best fit. That's why we ask questions upfront about what you're looking for. This helps us filter through a variety of forklifts for sale to find ones that match your needs. You'll receive personalized quotes on relevant machines only.
We also offer free resources and information on each of the different forklift types, plus tips on how each type is used. Simply select an equipment type from the navigation bar at the top of the page to learn more about it. With Forklift Inventory, it's easy to buy a forklift that's right for you without spending hours on research.
Types of Forklifts
If you need equipment for an indoor warehouse, consider cushion tire forklifts. These include sit down riders, which are ideal for loading and unloading pallets efficiently. If you work in a crowded warehouse with limited space between aisles, an order picker or reach truck might be a better fit. A reach truck can rotate its forks 180 degrees to retrieve pallets from high-density warehouses, while an order picker is better for selecting piece-part orders.
If you're looking to buy a forklift for outdoor use, consider pneumatic tire forklifts, which offer traction on uneven surfaces. These include telehandlers and rough terrain forklifts, which are ideal for heavy lifting at industrial or construction sites.
If you need equipment for a shipping dock, consider container handlers, which are designed for loading/unloading shipping containers. If you need equipment that can be easily transported, a piggyback forklift is a great solution, as these forklifts attach to the back of a truck or trailer.
No matter what kind of equipment you need, we're here to help. Learn more about your options and compare quotes with Forklift Inventory.
Comparing Forklift Brands
There are many forklift brands out there, and each one claims to be the best.
Luckily, Forklift Inventory makes it easy to compare the best brands in one place. Forklift Inventory offers pricing on a huge selection of forklifts for sale from top brands like Toyota, Clark, Crown, Yale, and Hyster.
Simply select the equipment type and specs that you need, and our experts will match you with equipment from industry-leading forklift manufacturers that fits your individual needs. In an instant, you'll receive free quotes on forklifts for sale from the best forklift brands. Compare forklift prices to find the best deal on the right equipment for you.
Comparing Forklift Prices
The best way to tell if you're getting a good deal on a forklift is by comparing forklifts for sale before you buy.
Unfortunately, not all lift truck dealers are upfront about forklift prices. Even if they are honest, it's incredibly time-consuming to collect forklift prices on a variety of models from different forklift brands.
That's where we come in. Forklift Inventory is a free tool that helps you compare forklift prices from different lift truck dealers in your area.
Forklift Inventory does all of the research for you. Simply select the type of equipment you're looking for, and we'll match you with high-quality forklifts for sale that fit your needs. We'll also send free quotes straight to your inbox, so you can compare forklift prices on equipment without ever setting foot in a dealership.
We've got you covered. Forklift Inventory works with top forklift dealers across the nation to provide a huge inventory of both new and used forklifts for sale from industry-leading forklift manufacturers. Browse all major forklift models from top forklift brands in one place. It's completely free to use and there's zero commitment to make a purchase.
Compare Forklifts for Sale Online Instantly.